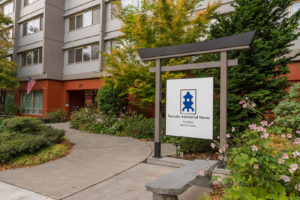 Kawabe House is located at 221 18th Ave South, in Seattle's Central District. Please call (206) 322-4550 for more information and to check on unit availability.
Kawabe Memorial House, founded in 1969, is home to seniors 62 years of age and older, most are first generation immigrants.
Kawabe Memorial House is a Retirement Housing Community located just east of the International District, with views of downtown Seattle, Elliott Bay, the Cascades and Olympic Mountains. It is a ten-story building that is home to 180 residents with an average age of 76, in 154 view apartments.
Harry S. Kawabe, successful entrepreneur and community leader, saw a need for affordable housing for seniors. Kawabe is the realization of this dream. It was built in 1972 as a HUD Senior Housing complex and was designed for independent senior adults who want to enjoy a lifestyle filled with recreational, educational and social activities with the convenience and security of community living.
Kawabe is a private non-profit organization governed by a corporate Board of Directors. Kawabe Memorial House provides quality, secure affordable housing and culturally sensitive programs and services to fulfill the vision, legacy, and philosophy of Mr. & Mrs. Harry Kawabe. Although it is independent living, there are a variety of supportive services including: arranging transportation to doctors, grocery shopping, housekeeping and group recreational outings; full Korean and Japanese translating services; one daily meal; monthly visits by a nurse for complete health screening; Tai chi; a full schedule of activities such as calligraphy, flower arranging, bingo, birthday parties, shigin (Japanese singing), etc. They also have a computer center for the tenants' use that has both Korean and Japanese language capabilities. There is an in-house service coordinator.
Partnering with many groups in the community, Kawabe has opened their facility to as many as 28 community groups for classes and activities. The residents can take free classes, and those in the community can participate in low cost classes and activities. Kawabe is an International Nutrition Site, offering a lunch program seven days a week for those community members 60 years and older, serving on average 45 people a day. Menus are translated into English, Japanese and Korean. Kawabe was chosen to be one of eleven sites for the Central Area Garden tour for their beautifully renovated garden area. The residents maintain the flowers, as they have a strong sense of community and see Kawabe as their home.
There is an incredible sense of community among the residents, which is evident in the support they give for the special projects at Kawabe. They helped raise $10,000 for the garden restoration project by holding bake sales and rummage sales. With the help of an Arts grant, the residents assembled a panel to choose an artist who designed sixteen postcards that tell life pieces of some of the residents. The postcard captions are printed in two languages. As part of the same project, the residents recorded their life stories in mixed languages to be shared at a listening station installed at Kawabe.